First off, the Funky Scarf Swap. If y'all had noticed, the FS % bar on the right has suddenly hit 100% and so, I'm very proud to say that it was completed and shipped off to Kathy at Minx Knits in USA. Unfortunately I have no pictures to show for my work but I'm hoping to swipe a few from her when she receives it. Am crossing my fingers and hoping she likes it.

Next, Socktoberfest update:

Ladies and gentle cars…

Presenting...

The one…

The only…

Starter Stockinette Sock…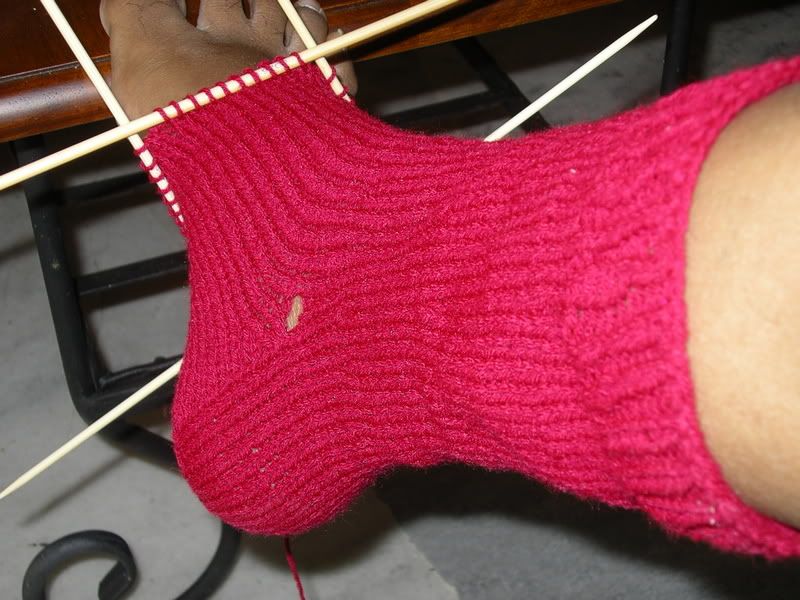 Do you see the hole? Its me-made, not hamster-made.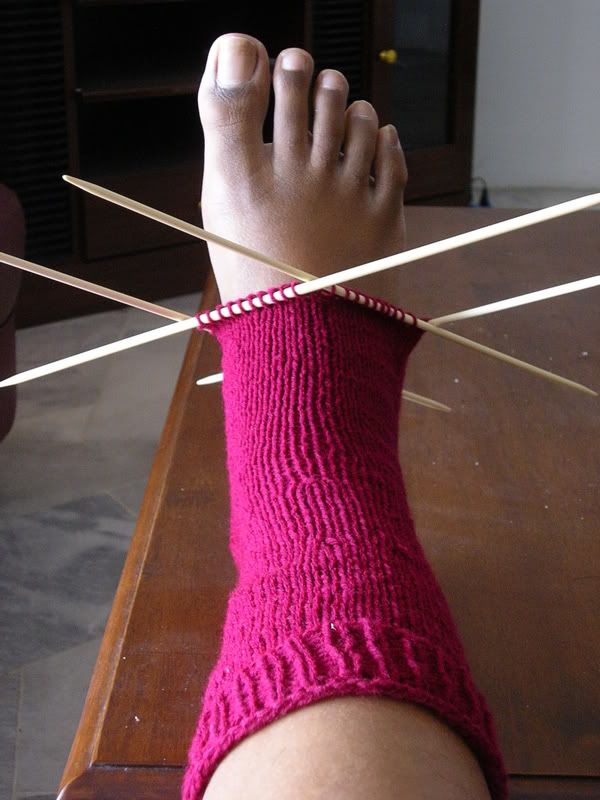 Magenta? Mais non....
And well, only if you are wondering…IT'S ACRYLIC! Yes yes, the hot, itchy, horrible stuff that bad yarn days (and dreams) are made of.
Why you ask? Ah…let me tell you. That's the beauty of the story…the madness. Now as you all know I've never knitted a sock in my life. And you also know that I have received a very beautiful colorway of Claudia's Handpainted to experiment with socks. But don't y'all agree that it's too precious to "experiment" with (think frustrated ripping, loose gussets and dpns used as a weapon)? I could never do that to the pretty pretty sock yarn.
And so, out comes the acrylic and BIG dpns (3.3mm). Again I was too chicken to use the lovely ones Ruth sent to me. Casting on was a cinch, but not so much like the first time using dpns.
It took me sometime to get used to sticks poking me while I was knitting (note: these dpns are 12'' long [stop laughing]). But after a while I did get a hang of it. So by the time I reached the heel, I remembered to try it on and well it's BIG. Why? Hello. It's 3.3mm and acrylic in sportweight y'all.
What you didn't see before....
Isn't it hilarious? It's waaaaay too big at the cuff. Not to mention the big, fat hole, where I picked up the stitches to join the heel flap.
Anyways I trudged on, the heel flap was cool fun to knit. And my fave, the turning of the heel. This time I kept trying it on and reducing accordingly whew. I'd rather not mention the hole that you saw before. Any tips to get rid of the darn thing would be highly appreciated.
So, what do y'all think? Should I cast on for a real sock with the proper teensy dpns and actual sock yarn just yet? Or continue this one? Any suggestions will be seriously given good thought and happy vibes sent to everyone at the same time.

Oh yes another thing I would love some help on: one skein of Claudia's Handpainted in Sea dreams. What can I knit with this? I'm itching to try it out but don't know what I can finish with it. It's fingering weight, 182 yards. Someone please help =)
In other news, Meta, otherwise known as the Big Momma of the Hamster underworld gave birth to 5 little babies. (Sing along y'all....Ma Hamster, she taught her four pups *ma ma ma maa*, Ma Hamster, to handle a bun...*ma ma ma maa* [to be sung in the same cadence as Ma Baker by Boney M and yes, my hamster family love buns and any sort of bread for that matter]). Both babies and mommy are doing great. Can't wait to play with the little fellas.
My finals are starting this week, all the way till mid-November. Less knitting time, unfortunately but that's life. You give some, you take some. Hard work and luck, that's what I need and of course, God's grace. But I'm still fReAkInG oUt.
Anyways, that's all for now. Hope y'all have a great week, knitting and otherwise.
Current Mood:
(what do I see? EXAMS y'all....LOTS of 'em)