Here is the belated birthday post that I've meaning to do since the 21st but ah well, things got in the way.

First things first, I GOT MY PC BACK! How much did it cost? Three hundred and thirty bucks. That's around $92. My cellie is going to cost another $50 so that's going to be non-operational till further notice.

Well the morning of my birthday pretty much sucked lemons. So did the rest of the day till around twilight. Well then it kinda picked up after I went off for dinner with my ---- and my buddy Mira. I got my first bday pressie from Mira just as we sat down to order. Lookie at me, soo excited: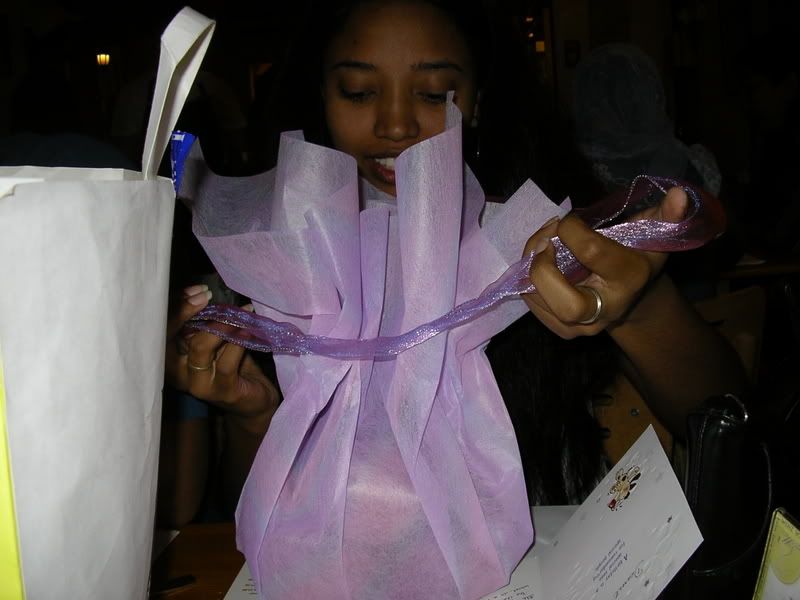 What's inside? Want to take a peek?

It's three skeins of yummy mohair in the dreamiest of colours! Gorgeous init? Thanks babe! I started dreaming of what to knit the moment I saw the skeins. I'm hoping to knit the Serrano in Knitty by cosmisplutoknits, let's see.
Now to the food. Here's what we had...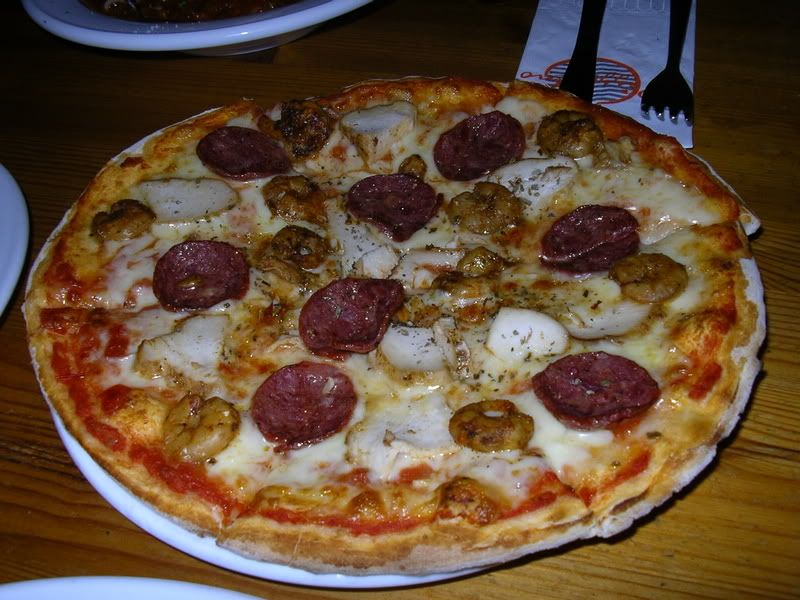 This pizza interestingly you can maybe see has pepperoni, smoked chicken AND shrimps. We each got to choose a topping, which explains the clashing ingredients. But it was pretty awesome, I would kill for some right now.
My stomach just gave an audible growl, yikes! But boy does that pizza look good! It was gone in about three minutes after this picture teehee....
The next on the menu was a gorgeous looking lasagna. Its veggie but looked absolutely fantastic. Not that big on taste though, I must say. It tasted way too tomatoey for me and everyone else. But this was my ----'s choice so I just stole a bite =)
But doesn't this pic make you want to have some? Looks oh-so-cheesy but trust me if you are at Pizza Uno, don't go for this unless you love eating tomato paste thats been baked with cilantro. Oh oh, the egg plant somehow looked yellow, but it was quite okay (yes I stole a slice of eggplant too =P)
Next was the Spaghetti Napolitana and the Fettuccini Carbonara. Somehow the Napolitana is too tomatoey (surprise!). BUT it compliments the Carbonara so well, which is a bit bland. Siigggh....I'm HUNGRY! Pictures? Blogger refuses to upload again...
Here's the last one. Fettuccini Bolooosomething something lol.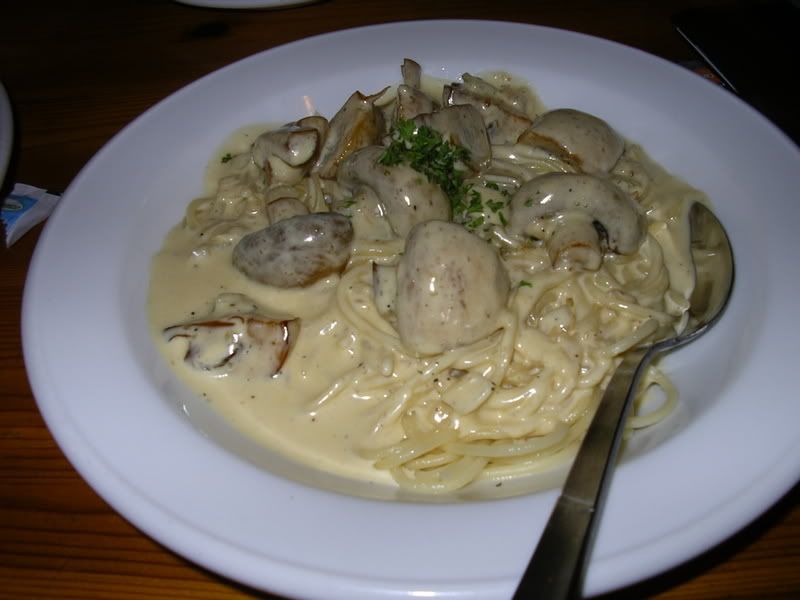 Looks fabulous, doesn't it? Ah well.
Here's some advice, please order the Iced Chocolate. It's fantastic!
Last but not least, my teensy, but BIG on taste Mud Cake. The reason I look so embarrassed is that there are a LOT of people singing Happy Birthday to me.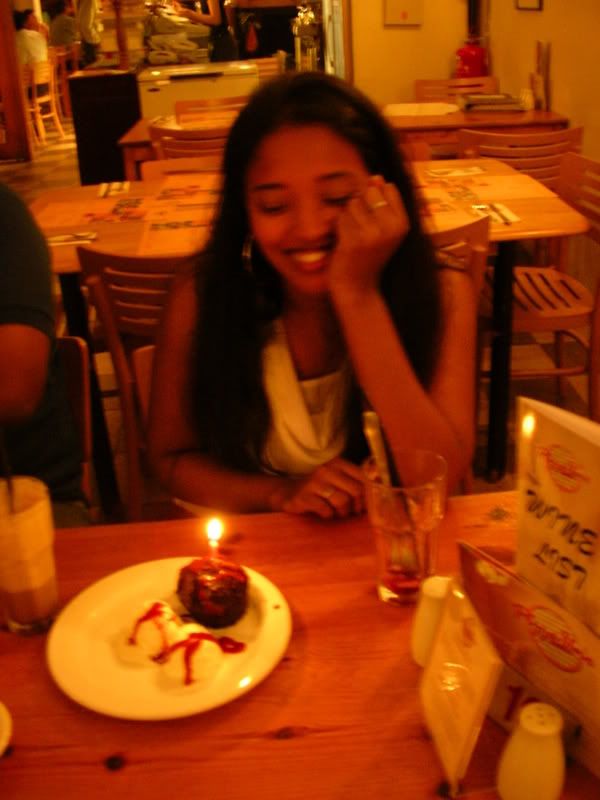 That was my day =)
This seems more like a restaurant review than a post. But hey, it's my blog so =P
I got some more awesome yarn from my ---- the next day but didn't have a camera to take pictures of it so that will be left for later.
Thanks to everyone who remembered and wished me well.
Signing off...
Current Mood: