It's finally over. Now I can knit till I go cross-eyed. Isn't that a wonderful thought?

So in celebration of exam-termination, Twiggy tweed from

Knitty

was cast on. The body and the two panels were completed in two days. In the spirit of Norovember, the panels have been done in Noro Kureyon. It should present a good contrast.

Now it's time for felting, BUT I do not have a hot water washing machine!! Has anyone had any success with hand felting? I would love to hear of any experiences. Pictures soon.

Another FO would be the cozy I knitted up for my buddy

Mira's

cellphone. It's the

Yugioh Pattern

, really cute I tell ya. Here is a preblocking picture.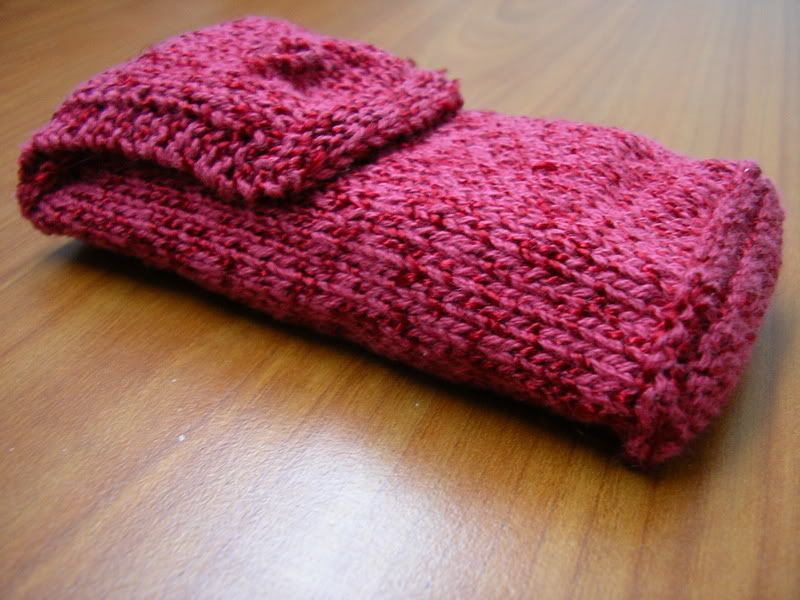 The yarn is 69% cotton and 31% viscose. Any idea how to block it into shape? It's a bit floppy, but in the picture, a rather small cellphone is hiding inside.

Next up is the beginning of all things Christmas-y. This is the first time I'm going to be knitting gifts for my family, it's a scary thought since I take like forever to finish something. Eeeep.

Here is what is going to be on the needles soon. The Flower Basket Shawl with Knitpicks Shadow in Sunset.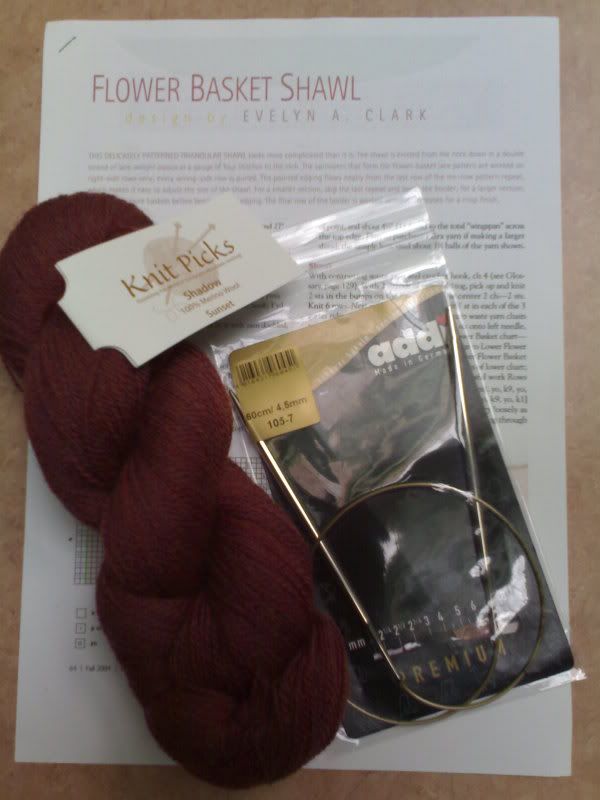 Those gorgeous Addis are not mine….but belong to Mira who very graciously lent them to me for this project. She received them from her awesome SP.

Now for more cool news, I just received a package from the very cool Polly at All Tanged Up. She noticed that there weren't any selections of sock yarn here in Malaysia (yes I did whine about that many-a-place) and so she suggested a swap and tada…I received my package. There was yarn, ooo yes there was yarn, and also a tin of delicious Jaffa Cakes that vanished within 3 minutes after I unpacked everything.
The skein on the left is Amethyst from Fleece Artist. It's in the most gorgeous deep purple I've ever seen.
The red ball is Lana Grossa – Meilenweit Cotton Spirit. It's so soft and yummy.
The lighter pink one is Trekking XXL, soft sweet shades of pink and lilac. The two little balls are Cascade Fixation in a kaleidoscope of colours!
Boy do I have plans for this lot as well. Thank goodness exams are out of the way. WooooOOOoooooot!
Thanks a lot Polly. I love everything you've sent.
Well thats about all for this post. Isn't life just great after exams?
Current mood: