My SP9 spoiler has struck for the last time! It was the perfect package to put me in a wonderful euphoric mood for the rest of the day. My spoiler was Jamie from Jamie's Journey all the way from Canada.


The first thing that caught my eye when I opened the box was something pink, and completely fluorescent. A pink giraffe!! Bendy and everything! Lookie here...
His eyes are so wonky! Part of his charm hehehe.

Next I saw a glimmer of dark green and the heavenly smell of peppermint wafted up into my nostrils...that meant one and ONLY one thing.....AFTER EIGHTS! Not just one but TWO big packets. I almost flipped over in delight! Thanks Jamie...it was such a treat...(was - since its LONG gone).

Also she thoughtfully included two packets of the most amazing Cranberry Cider that I was raving about when she sent them to me before. I.LOVE.IT. seriously.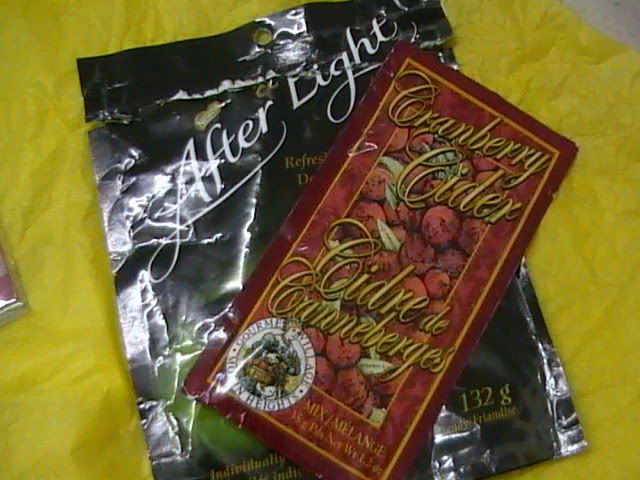 Does anyone in Malaysia know where I can get it here?
Next up, I dug through to discover a wonderful selection of lip balm, inspirational magnet, hand cream and bath salts.


Next up...knitting surprises. I almost started dancing when I saw this: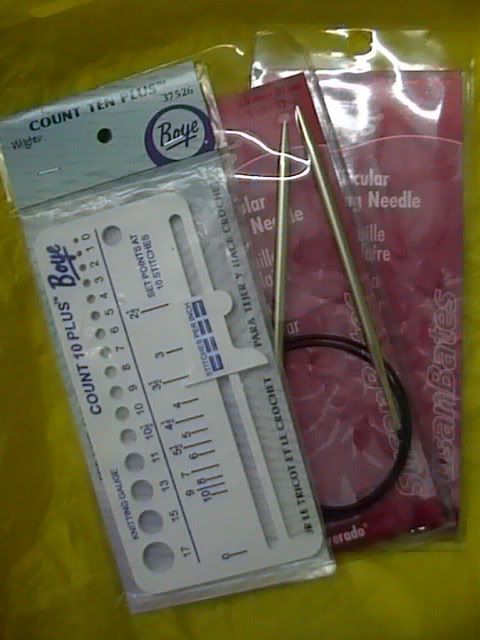 Two sets of Susan Bates circulars and a Count 10 Plus gauge thingee. OMG...I've already started using one of the circs...hence the missing one in the pic and the gauge thingee is SO USEFUL. I'm so freaking lucky! Thanks Jamie, I was squealing in glee when I figured out how to work it!
And now...the best for last...my jaw dropped and I was speechless for a couple of minutes when I saw this...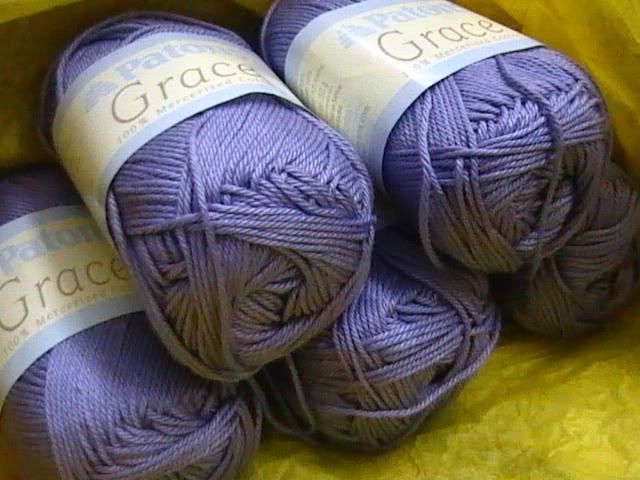 5 balls of a beautiful lavender color...100% mercerized cotton! Patons - Grace as you can see.
I'm stumped at what to knit with this that would required exactly 5 balls. Jamie recommended a tank top and I think she's right. I'll have to start pattern hunting. But if any of y'all have any brilliant ideas..PLEASE...let me know.

Jamie, I would like to thank you for such a wonderful package. I can see that you have put in a lot of effort into this well thought-off package. Thanks for being such a cool spoiler.

In other wonderful news. My brother is here on holiday. It's so nice to have him around after such a long time. Wish my parents were here too. I have a nice supply of home cooked food to last me awhile now. Yumm...
Speaking of yummm...mom sent me a roasted turkey. My bro, buddy, ---- and I had a rather belated Thanksgiving dinner. Boy were we full!

Anyways thats all for now. I am currently knitting the Diamond Fantasy Shawl in Knitpicks Shadow. It's currently in the freezer because of a big ass mistake. Got to figure out what to do.

Happy Knitting y'all!